Double Glazing Conversions Across The East Midlands
Aaron Johnson Joinery are the leading double glazing conversion specialists in the East Midlands, renowned for our quality craftsmanship, attention to detail and friendly customer service. With more than 20 years of knowledge in the industry, Aaron Johnson's team of experienced professionals can be trusted to deliver high-quality results every time. All work completed is done so with absolute precision and accuracy that you can depend on lasting for many years to come. Not only will you receive a quality conversion, but also total peace of mind knowing your windows have been expertly handled by the region's best specialists.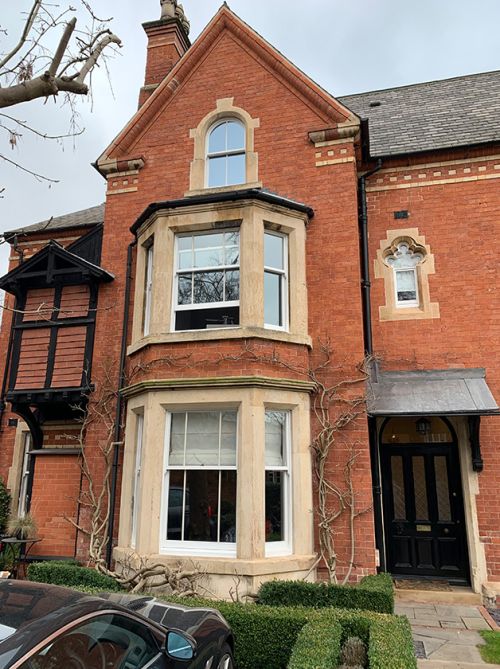 The Restoration Process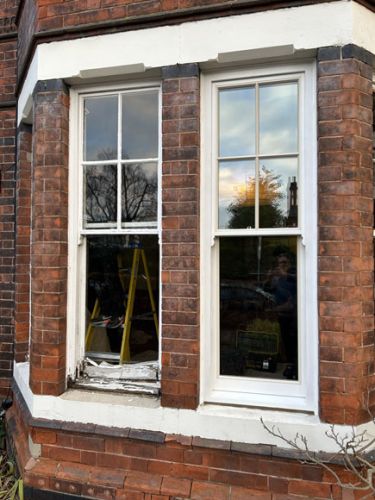 1.
This is a natural development from our original refurbishment package, whereby we carry out all the work necessary to restore the outer box frame but simply replace the two sliding sash casements with double glazed replicas. These are made in exactly the same way as the originals but with some slight modifications to allow them to take sealed units, rather than putty pointed single glazing. We go to painstaking lengths to make the replacement sash's match the originals and are always happy when customers comment on how 'you would never know the difference' and how narrow the glazing bars are.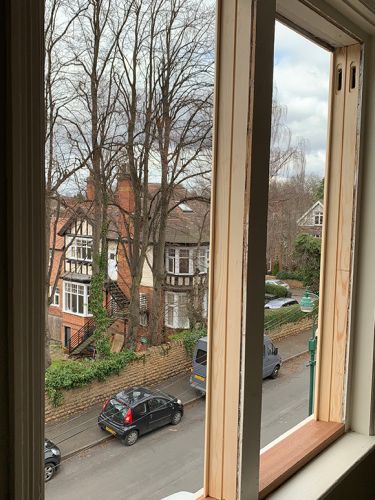 2.
Once the outer box frame is restored and given a coat of dense white primer undercoat we then re-calibrate and add extra lead weighting to the existing steel balance weights so that the new sash's slide properly in the box frame. The new sash casements are then re-hung on traditional 7mm thick wax cotton cord and then the window is then re-assembled with new pre-primed wooden parting and staff beading. This also incorporates a full fibre pile draft proofing system and allows the sash's to slide smoothly and quietly within the frame.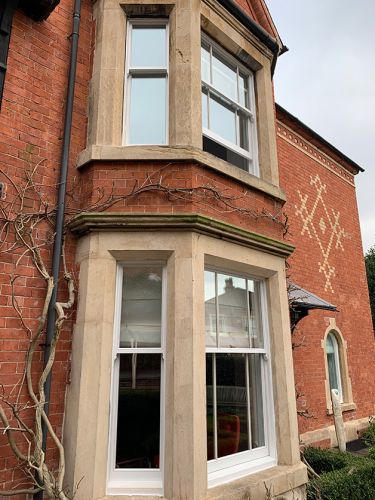 3.
Solid brass Brighton pattern sash fasteners are then fitted to the new sash casements and extra Rola security bolts if necessary. You are then left with a beautiful new double glazed and draft proofed sliding sash window for a fraction of the price of a new one. As the original box frame stays where it is, you can retain the original period architrave and no need for any messy and expensive re-plastering!
After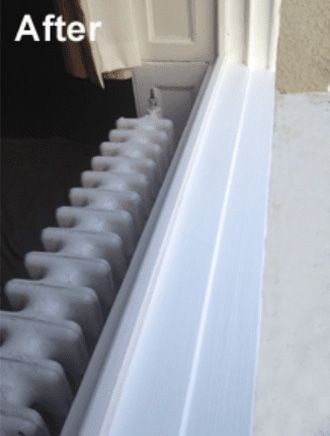 Before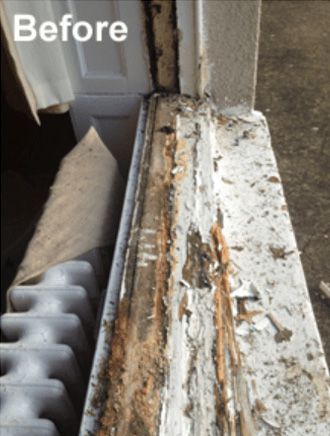 Sill Replacement
A common problem we encounter with original sash windows are rotten sills. This is the area of the sash box that bares the brunt of the elements, along with the bottom edge of the lower sash window and as such will suffer the highest degree of degradation. However, although it may look pretty terminal – all is not lost and if minor the rotten area and be treated and re-filled with epoxy, or if more severe it will be completely replaced.
Dust Extraction
Our company are strong believers in environmental health while carrying out any restoration work, especially in customers homes. A little known fact about restoring sash windows is that the original paint systems on nearly all windows is lead based and contain high amounts of heavy metals and other contaminates that are illegal to use now.
When these old layers of paint are removed, most commonly though heat gun and scraper or sanding, these contaminates are released again into the air either as a vapour or fine dust and can linger for some time. This can pose a health risk to occupants of the property, especially children prone to asthma.
At Aaron Johnson we use a unique two-pronged method of paint removal which eliminates these health hazards –A high powered rotary sander removes the top layers of built up/flaking paint and then after filling and any timber replacement, an eccentric sander brings the surface of the timber to a smooth fine finish ready for re-painting. This process uses NO HEAT, which would vaporise the chemicals and creates NO DUST, which can linger in the air for hours and be inhaled. Both processes are hooked up to a high performance dust extraction system which takes the waste away before it has a chance to escape into the air and into lungs or all over the furniture! The window and box will now look crisp and new, with sharp edges and smooth clean surfaces.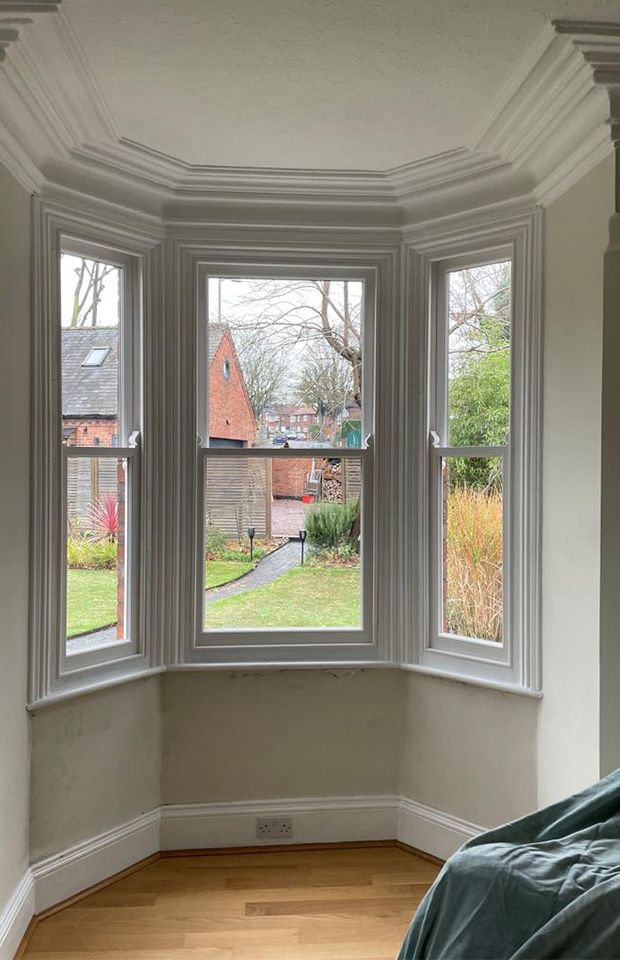 Featured Projects
When it comes to sash windows in the Nottingham and Derby region, Aaron Johnson is the indisputable choice for an effortless service, quality products, and a unique long-term approach. Not only do they offer plenty of support from their extensive range of expertise, but the team also provides helpful advice on how to maintain and preserve your window frames – all while offering competitive rates that ensure you get the best value for your money. With years of experience and a dedicated commitment to customer satisfaction, Aaron Johnson is the standout sash window provider in Nottingham & Derby.
Getting your new sash windows
Purchasing new sash windows can often be a daunting prospect for many customers for a multitude of reasons. We understand these issues and over the years have developed a system of operating whereby the whole process is managed by us in house, from initial enquiry through to final fitting and sign off. No external contractors are used for things such as site surveys and fitting. It is all done by us.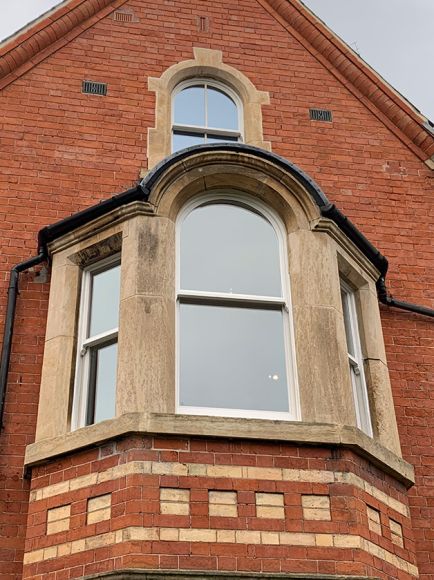 Frequently asked questions